Eating In:
Hiring a cook, chef, or caterer can be a real treat for the person in your group who usually gets stuck preparing the meals. Let them take the night off and hire someone on a special night to cook a dinner for your family while at your villa. Like many things, this can be done simply or more elegantly.
I can provide you the names of Caymanian ladies who cook just about every week at one of my homes for my guests, and I have never heard anything but praise for them. Each shops for the food, arrives about 4:30PM, cooks, serves, clears and cleans and then leaves by about 8:30PM. Their meals are typically "Cayman Style" fish, plantains, rice & beans, salad and a key lime pie. They can also prepare a more simpler dish for finicky children (spaghetti usually works). Our highest recommendation goes to Rosie Paris and her team. They earn rave reviews for their food and service with a smile. Rosie will undoubtedly prepare too much, so ther eare leftovers for lunch! Not only can she come and cook for you; but if you would prefer she cook at home and then deliver to your villa for you to warm up; or meet her half way to town; that is reflected in the cost for sure. I would advise every villa guest to hire Rosie for at least one evening meal while they are on island. Contact her at 345-927-0314 or by email at terrypqueen@yahoo.com .
I also recommend a local chef & event caterer, Mise En Place, Tukka Restaurant owner/chef Ron Hargrave and the restaurant chef at The Lighthouse who do most of the "in-villa fine dining" business on northside and east end. In addition to catering weddings, they also do large family dinners, beach BBQs and events at our villas. This is always a much higher level of food & service (than simply a cook) with wait-staff as well. Because this is more expensive, it may only be truly appreciated by adult parties who want to enjoy their food and wine at leisure and not have to drive a rental car afterwards from a restaurant. Sample menus are included with your lease.
In the East End of the island just a mile & a half south of (new) Tukka Restaurant is Vivine's Kitchen, which is a casual island style home-cooked meal prepared by Vivine Watler. Lunch only, except for Wednesday night, when she has a seafood buffet.
Just south of the Castle in east end (across the street from Ocean Frontiers) is a new place called Arlaine's. She prepares lunch daily and is open in the evening for both eat-in or carry-out. Her menu is typically fast food.
II.    NEARBY RESTAURANTS (you will need to drive a little).
Tukka Restaurant (replaced "Portofinos in 2010)- Located just one mile south of Morritts in the east end, this oceanfront restaurant is very versatile and charming. The menu is "Island Fusion", ranging from crocodile fingers and pastas to live lobsters, lionfish & Australian Steaks. Tukka offers both indoor and outdoor seating and has a decent wine list as well. The Sunday brunch (11:30 – 3PM) is a favorite for our guests staying at Northside and East End villas for planning the rest of their week over a great lunch/drinks with the warm ocean breeze. Chef Ron can also arrange for catering or take out as well; 345-947-2700. Lunch & Dinner everyday; Breakfast on Sat. & Sun. Brunch on Sundays. http://www.tukka.ky/ ; tukka@candw.ky
Kaibo Yacht Club – (http://www.kaibo.ky/ ; kaibo@candw.ky )Near Rum Point, the Kaibo Yacht Club & Marina is a great venue for dining and for entertaining the kids. The marina is located in a quiet cove (see in photo above) and  is a great place to see fish swim by. The menu is varied–from casual wraps and sandwiches downstairs; to themed dinner menus served formally on the beach as well as meals served upstairs in the more formal restaurant overlooking the marina.. The Kaibo also celebrates Mardi Gras each Spring (specifically Ash Wednesday) with a huge beach party.  The bar has a few satellite TVs as well as some of the coldest beer on the island (they make their own ice for the beer coolers). The Kaibo does weddings, occasional yoga lessons in the AM, special dinners and a BBQ on Tuesday nights. Dock and lounge chaises on premises. Lastly, Cayman Kayaks runs their kayak tours from the Kaibo Beach. The manager (Daniel) is a great host 345-947-9975 and can arrange private dinners, wedding receptions and other celebrations as well.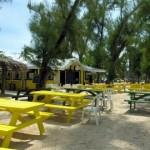 Rum Point Club -This (public welcome) beach club is the #1 place to hang during the day (except Sundays-too crowded). They have a great outdoor grill with waiters and picnic tables, lounge chaises and hammocks. Super bar as well as a gift-shop & clean showers/bathrooms. The larger evening restaurant & Bar on the property is open Tuesday – Saturday (6-10PM).  The Red Sail 65′ Catamarans & Dive boats leave from their pier, as well as private charters. The Bar/Grill open at 11AM each day– Professionally managed, so it is very well run, clean and cared for. Also is handicapped accessible with decked pathways. Jet Skis, Paddle boats, kayaks, snorkeling, SCUBA diving and even waterskiing available. The Haagen-Daz freezer in the bar will have your children's attention! The evening restaurant also has a great bar and offers a thoughtful menu and chef-prepared meals. Call Carol or "J.B." for reservations 947-9412.
Lighthouse Restaurant – The Lighthouse is the best restaurant east of Georgetown. This is a 4 star restaurant with uniformed wait-staff, an excellent wine list and superb menu. Caribbean and Italian menu, the Lighthouse has a wonderful new bar/lounge and an oceanfront screened dining porch. You can listen to the waves break on the rocks below while enjoying some of the finest food on the island. For a special dinner, "Captain G" (Giuseppe) also has his "port room" which is an air conditioned (wine cellar themed) private dining room with a large round table that can seat 10-16 people. A dinner in the Captain's port room is a true memory, and you would need reservations for this experience. I would always suggest reservations for the Lighthouse to be certain that a table is available. 345-947-2047. Located in Breakers- which is on the way to town. It is just west of the main North/South road bisecting the island. If the flags are up–he is open. Cooking class with chef Remy is VERY popular – call ahead to reserve. http://www.lighthouse.ky/; captg@lighthouse.ky
Italian Kitchen – The Italian Kitchen offers cuisine ranging from pasta to seafood to pizza, all in a relaxing and welcoming atmosphere. With a full pizza oven & spacious dining room, this little gem in the East End is sure to please. The Italian Kitchen is located in the Morritt's Center across from the Royal Reef and Morritt's Resort. From Cayman Kai, take Old Robin Road, then turn off on Old Man Bay. It will be on your right!

Over The Edge – On the way to Rum Point on Northside, just after the awkward left-hand turn in Old Man Bay on the northcoast; there is a small green (oceanfront) restaurant called "Over the Edge". It is part bar and part restaurant, and has great seating over the water on their deck…which is a great place for kids for dinner. The fish, stingrays and sometimes octopus swim right up at dinner time, attracted by large lights Philippe (The French owner) shines in the water. No reservations required for this casual place…less expensive too. They also cook breakfast, lunch and dinner.
The Reef Resort Restaurant (Pelican's Reef & Castro's Hideaway) – Pelican's reef is the inside restaurant and Castro's is the beach bar for this time-share resort (next to Morritts).  It is oceanfront and serves great drinks, light fare and is a gathering place for tourists in the east end. No reservation necessary. The inside restaurant also serves dinner and they have "The Barefoot Man" sing/perform each Tuesday & Thursday at a dinner show (about $40/person) (reservations required 345-947-3100)
Vivine's Kitchen – In the East End; Miss Vivine's house is the backdrop for her charming restaurant on the water in East End. Cool breezes rustle the sea grape trees around you, large sea birds dive into the water fishing for sprats right in front of you and though it is rustic the place is truly a delight. The food is as authentic Caymanian as it comes and her ingredients – fresh fish, conch, whelks, lobster and turtle are all sourced locally. 345-947-7435 (Lunch and Dinner Daily)
Kurt's Korner – in Old Man Bay behind "Water Boyz" liquor across the street from the Esso Gas Station; there is great food for a reasonable price here! Miss Blossom, from Over the Edge is the cook and she is very good.
Morritts Restaurant (David's) – On the northeast tip of the island, Morritts timeshare resort has a couple of restaurants, the largest being "David's". Many people eat there–especially for breakfast on this side of the island. There is some nightly entertainment there, but call to be certain when/what. Lammie's show is pretty funny. Check in there for their calendar of events at the front desk.
Various Local Jerk Chicken/Pork Stands:  There are a number of roadside vendors of Jerk Chicken, Pork, Fish, etc. around the island. I  like the two in Boddentown the best– Chester Watler's Fish Fry and Wood's Grilled Chicken. There are a few others scattered in the East End..all are fine and are inspected by the government. I would stay away from people serving food out of their cars– The best rotisserie chicken on the island is at Chicken! Chicken! in a pink shopping strip mall on 7Mile Beach just south of the Hyatt and north of Wendy's. Great place to eat on the day of departure (they open at 11AM).
III. Restaurants on the west of the island (7 Mile Beach):
I don't eat much on the west side of the island, but when I do; these are the restaurants I enjoy going to:
Bamboo (in the Hyatt) – This is a great (eclectic) sushi bar with awesome music & food. After dinner you can walk on their beach or sit down around their pool on a padded lounge chaise. Their food ranks in the top 5 restaurants for 7MB for me. The Hyatt also has some cute shops for window-shopping afterward too. View of ocean/pool. Great bar next door at Hemmingway's too.
Calypso Grill – Is my absolute favorite restaurant on the whole island. It is a long trip from the East End, but worth it actually. It is built on a dock in Morgan's Harbour at the top of 7 Mile beach. The menu is very large and they have just about anything you could possibly want .Open Tues – Sun;  Lunch & Dinner. 345-949-3948. Reservations strongly suggested.
The Brick House (nicer) & Dog House (Sports Bar) – Located a little closer to you in Grand Harbour (Right behind Hurleys Grocery Store) is a new restaurant that makes fresh pasta meals and oven-fired pizzas, as well as other elegant fare. There is an outdoor covered patio for al fresco dining, as well as an adjacent sports bar/restaurant (best on the island) for the big game. It is closer by– and if you are running to the grocery or liquor store for something anyway– this is a great choice. Also on the property is the world famous "Black Pearl" skateboard park and a wave machine for surfing!
Other very good restaurants I have been to…